Shion Hatake (はたけシオン , Hatake Shion) is a chūnin-level kunoichi from Konohagakure and a member of Team Yūsey.
Background
Shion is the only child of Yoshiro Matsuya and Kaoru Nobuko.
Personality
Appearance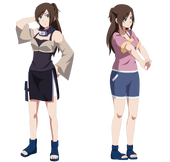 Shion has long brown hair, green eyes and fair skin.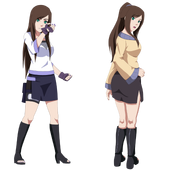 Abilities
Nature Transformation
Shion's natural affinity is Lightning Release.
Part I
Sasuke Recovery Mission
Part II
Movies
Naruto 6: Road to Ninja
Naruto 7: The Last
Trivia
Her name comes from a wild flower (specifically, the aster).
According to the databook(s):
References
Shion Hatake is an OC/RPC for the Narutoverse created by Antonella on :
Ad blocker interference detected!
Wikia is a free-to-use site that makes money from advertising. We have a modified experience for viewers using ad blockers

Wikia is not accessible if you've made further modifications. Remove the custom ad blocker rule(s) and the page will load as expected.