Chisasu Uchiha (うちは血指す, Uchiha Chisasu) is a shinobi from Konohagakure's Uchiha clan.
Background
Chisasu is the son of Sasuke Uchiha and Sawaii Hitomi.
Personality
Appearance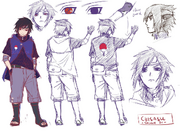 Chisasu has black eyes as well as black hair with a blue tint to it, like his father Sasuke.
Abilities
Ninjutsu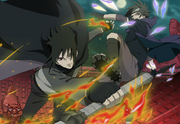 Nature Transformation
Dōjutsu
Sharingan
Epilogue
Trivia
Quotes
Ad blocker interference detected!
Wikia is a free-to-use site that makes money from advertising. We have a modified experience for viewers using ad blockers

Wikia is not accessible if you've made further modifications. Remove the custom ad blocker rule(s) and the page will load as expected.