Chiaku Nara

(奈良チアク, Nara, Chiaku)

Debut

Appears in

Manga, Anime and Movie.

Voice Actors

Japanese

English

N/A

Personal

Birthdate

30 september

Gender

http://i1184.photobucket.com/albums/z328/orangebox011/18px-Gender_Femalesvg.png Female

Age

Part I : 23-24

Part 2: 26-27

Height

173 cm

Weight

59.7 kg

Blood type

A

Classification

Long ranged

Affiliation

Konohagakure

Team

N/A

Clan

Nara Clan

Rank

Ninja Rank

Jonin

Academy Grad. Age

9

Chūnin Prom. Age

12

Missions Finished

Family

Nara, Setto (Father)

Shizuru, Chiya (Mother)

Nara, Shikaku (Uncle)

Nara, Yoshino (Aunt)

Nara, Shikamaru (Cousin)

Hatake, Kakashi (Partner and lover)

Nature Type

Start Here

Jutsu

Start Here

Tools

Start Here
Chiaku Nara (奈良チアク, Nara, Chiaku) is a formal Jounin ranked kunoichi from Konohagakure. She's mostly outside the city on a mission. She co-operates in a lot of S-ranked missions, because of her high ability of Shadown Jutsus.
Background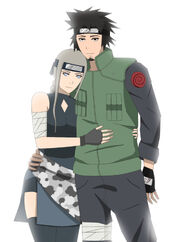 WIP
Personality
She's a very energetic person, who loves to tease. She has a weird sence of humor. When it comes to training, she's always there. She'd rather be an hour to early than be a second to late. When she sets her mind on something, she goes for it for the full 100%. She's a really jealous person and a hothead, but she also has her sweet and shy sides (mostly around Kakashi).
Appearance
Chiaku has long brown spikey hair. She w ears it in a high ponytail with two strands of hair hanging beside her face. She has ice-blue e yes, just like her mother. When she was 12-years old, she marked herself on her leg with the sign; kage. Her mother also had the same sign. She wears a fishnet with a bra underneath it. On top of that she has a loose green blouse. She also wears blue pants. On her waist she has two belts; one with the logo of Konoha and the otherone with the logo of the Nara-clan.
Abilities
Here you will write the basics of the ablities, such as what is their strongest asset, their strenghts and weaknesses, strategical preferences and such
Clan abilities
Under construction
Status
Under construction
Part I
Under construction
Part II
Under construction
Trivia
Under construction
Reference
Pictures were made by Amesui on DeviantArt.
Ad blocker interference detected!
Wikia is a free-to-use site that makes money from advertising. We have a modified experience for viewers using ad blockers

Wikia is not accessible if you've made further modifications. Remove the custom ad blocker rule(s) and the page will load as expected.